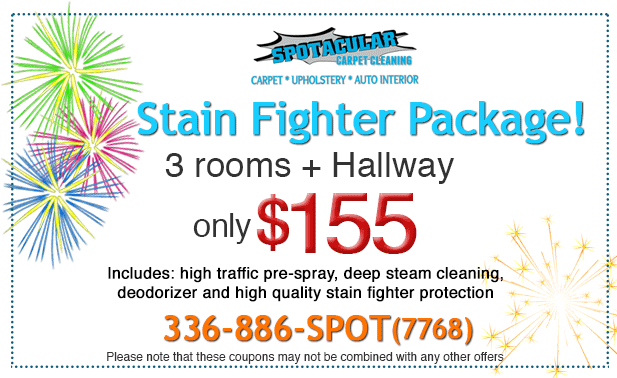 Proudly Serving: High Point, Jamestown, Kernersville, Thomasville, Archdale, Trinity, Greensboro, Lexington and Winston Salem
Welcome to Spotacular Carpet Cleaning
Whether you need a routine carpet cleaning or have carpet that's been damaged by a flood, our professional carpet cleaning company can help you. The benefits of professional carpet cleaning include the removal of mold and allergens, odors from pets, dirt and spots as well as prolonging the life of your flooring and upholstery, saving you money, time and energy. Spotacular Carpet Cleaning offers a number of services to help you take care of your carpet and upholstery, and our main goals are providing "Spotacular Cleaning at Spectacular Prices!".
At Spotacular Carpet Cleaning, our range of services runs the gamut. Our carpet cleaning services include: spot removal of red stains, grease and protein stains, removal of pet stains and odors, area rug cleaning, upholstery cleaning, auto interior cleaning and mattress cleaning.
If you need to hire a carpet cleaner and want excellent customer service and the best results, look no further!  The technicians we send to your home to provide service are experienced and professional, and they use only the most current and safe equipment and cleaning products. That means you can trust the people coming into your home and also trust that they will do an excellent job while keeping you, your family and your pets safe.
We are a local carpet cleaning company that provides high quality carpet cleaning services.  Call Spotacular Carpet Cleaning for all of your carpet and upholstery cleaning needs. We provide a wide range of services and will ensure our work meets your standards and leaves you satisfied.