Carpet Cleaning

Serving Winston-Salem, Lexington, Kernersville, and High Point NC
Meet Owner, Johnny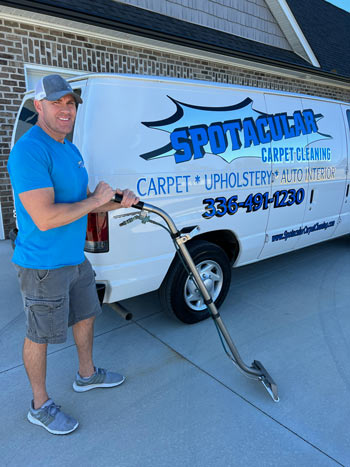 Hi! I'm Johnny, owner of Spotacular Carpet Cleaning. I'm a High Point local and started Spotacular in 2009 with the intention of not just building a business; we are hoping to build lifelong relationships as well. Thank you for visiting and read more about our story.
Call and ask about our
FIRST TIME CUSTOMER DISCOUNT
107 reviews on
They steam cleaned my tile & grout floors. Best cleaning that I could have hoped for!!! I own a rental townhouse & the 94 yr old tenant moved out. It was the nastiest, smelliest, grungiest place imaginable. I called Spotactular from a referral to steam clean the nasty, dirty & grimy tile/grout floors throughout. They did a fantastic job. The floors are like NEW! They came so clean!!!! They were punctual & communicated well. They called/texted with their arrival time & arrived on time. I am more than thrilled with the job they did & their service. Very nice people & I highly recommend this company. You'd be doing yourself a favor by using this company. I will definitely use them again. You don't find them like this anymore!!
Read more
He did a wonderful job at cleaning the area rugs. Very professional
Read more
Karen Altenpohl
2022-09-25
Highly recommend this company. Efficient, professional service.
Read more
Johnny does an amazing job. He made me very comfortable and had a great personality. I would highly recommend this company.
Read more
Thanena Wilson
2022-09-08
Friendly, professional service provided and the carpet looked great!
Read more
Mike & Joni Whaley
2022-09-06
We've only lived here a year but we had some pet stain issues and Johnny made our carpets look new again. Professional, prompt and friendly.
Read more
Spotacular Carpet Cleaning did such a great job!! They were on time and has my carpet looking BRAND NEW in a matter of minutes!!! I recommend Spotacular to all my family and friends!!! Very professional and friendly!!
Read more
They were so incredibly professional and made it so easy to schedule an appointment that fit my needs! Will definitely recommend and use again!! The house smells amazing!
Read more
Same Day Appointments Available!
Services Offered by
Spotacular Carpet Cleaning:
• Professional carpet cleaning for residential and commercial clients
• Spot & stain removal (red, grease & protein stains)
• Tile & grout cleaning
• Pet stain and odor removal
• Area rug cleaning
• Upholstery cleaning
• Auto interior cleaning
• Mattress cleaning
Areas We Serve Include:
• High Point
• Kernersville
• Jamestown
• Thomasville
• Archdale
• Trinity
• Lexington
• Greensboro
• Winston Salem
Merry Christmas!
Why Spotacular Carpet Cleaning
If you need to hire a carpet and upholstery cleaner and want excellent customer service and the best results, look no further! We are a local carpet and upholstery cleaning company that provides high quality carpet cleaning services at prices that fit any budget! Call Spotacular Carpet Cleaning for all of your carpet and upholstery cleaning needs.
Why is Spotacular Carpet Cleaning the #1 choice for homeowners, realtors and businesses? Our mission is to provide you with the highest quality service at a price you can afford – Spotacular Carpet Cleaning at Spectacular Prices!
• Convenient hours – same day appointments available
• High quality service
• Pricing for every budget – coupons available
• Superior cleaning technology
• Full line of services offered
• Professionally, trained technicians
• Locally owned and operated